WED. NOV. 9 through FRI. DEC. 29 KIRK GALLERY: Mike Benton, painter   
WED, NOV. 9 through FRI. DEC. 29 LOWER LEVEL: Enid Probst, mosaics & Donna Pickens, encaustics
WED. NOV. 9 through FRI. DEC. 29 UPPER LEVEL: Christmas Tree Extravaganza  
Current Exhibit
Enid Probst
Journey of the Soul
Enid Probst art reflects her interest in merging classical and contemporary themes as well as contrasting materials, textures and luminosity. She works with stone that she collects throughout Alabama. Alabama slate, sandstone, marble and quartzite are favorite mediums. The beauty of nature, scenes of every day life and spiritual expression are her inspiration. While enjoying the close work of individual pieces, she is drawn to the challenges of large installations such as floor and wall mosaics, as well as sculpture.
Originally self-taught, Enid refined her understanding of mosaic art by training with master mosaic artists in the United States, Italy and Mexico. Currently, she is completing a Certificate of Mosaic Arts from the Chicago Mosaic School. Her work can be seen at several public installations in the River Region, including two community mosaic projects as well as a wall mosaic, completed in 2015 for Jackson Hospital. In addition, she has numerous private installations and fine art pieces in residences in Alabama, Florida, Oregon and Colorado.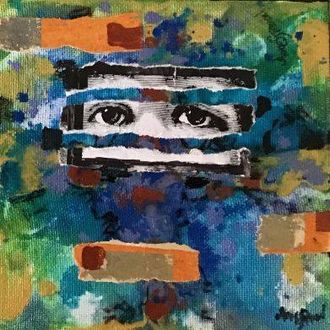 Donna Pickens
Journey of the Soul
Donna Pickens is an artist and art educator, with more than 30 years of experience teaching art (kindergarten through adult classes) in a variety of public and private settings. Donna moved to Montgomery, Alabama in 2004, working as Assistant Curator of Education at the Montgomery Museum of Fine Arts for the next 12 years. In her role at the Museum, she developed art programs, classes, and tours for children and adults, including the art curriculum and lessons for the annual fifth grade Montgomery public school tours and the arts integrated curriculum for the weekly Artist in Residence Program at the Wares Ferry Road Elementary School.
She also worked as a Special Projects Coordinator with the Alabama Arts Alliance. As a professional artist, Donna created numerous large-scale public and private art commissions in Atlanta, and her work has been shown in local, regional, national, and international juried exhibitions. Donna's professional training includes a B.A. from the University of Texas, an M.A. from Stanford University, and an M.F.A. from Georgia State University.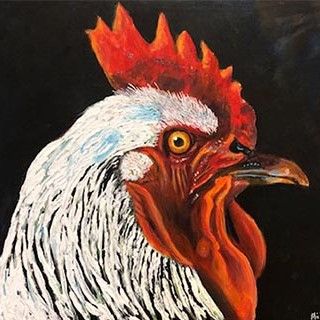 Mike Benton
Mike Benton Art
Mike Benton was born in Troy, AL and raised in Union Springs. As a child, he was introduced to art by watching TV shows like John Nagy. Any paper with a clean surface soon became a place for drawing. In school, he kept on with drawing, murals and painting tigers for the football team. He has attended classes by other artists but, mostly, had to teach himself. After years of devoting his talent to music and playing with various bands, his daughter, Amanda, encouraged him to get into art again. He started drawing with graphite, charcoal and pastels but  began watching videos of famous artists and instructional programs to learn everything he could about painting with acrylic and oil paints. He also became interested in watercolor and clay sculpture and was enthused with it. His work has been displayed in studios, art galleries, magazines. etc. and published on the covers of seven novels. Mike is currently a member of the Pike County Art Guild as well as the Bullock County Art Guild of which he is a former president. 
Currently, Mike enjoys painting with his students at Pike Liberal Arts School. He is a former TroyFest Graphic Artist award winner.